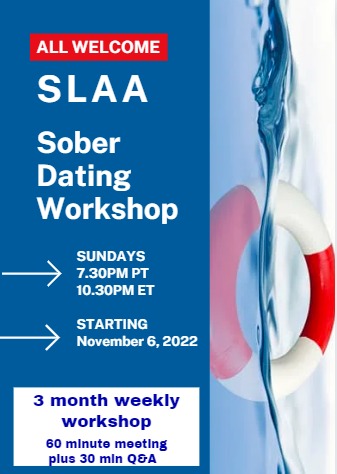 Sober Dating Workshop SDW 2
Hi there,
You are invited to a Zoom meeting.
When: Nov 6, 2022 19:30 Pacific Time (US and Canada)
Register in advance for this meeting:
https://us02web.zoom.us/meeting/register/tZItf-yopz8qH9xGx19t9SIHClXzaVDZvovM
After registering, you will receive a confirmation email containing information about joining the meeting.
ONLY SPACE FOR FIRST 100 TO REGISTER
So please do not register unless you are committed to attend.
Meeting Timings as of Nov 6th.
Sundays:
05.30 pm Hawaii
07.30 pm US Pacific
10.30 pm US Eastern
Mondays:
07.30 am Dubai
09.00 am India
11.30 am Bali/Singapore
02.30 pm Sydney
04.30 pm New Zealand